Your home will be even more lovable
Our skilled team of specialists knows everything that needs to be done to get your home thoroughly cleaned and organized quickly; we are committed to doing our best to make you and your family's life even better.
Keep your home looking good and organized
We were hesitant to have someone come into our home, but decided to give it a try. After receiving our service, we are very satisfied with the results!! Highly recommend this company.
Danielle Pendergrass-Watson
2021-11-18
Almondbloom Cleaning did an amazing job deep cleaning my house. They were very thorough, and didn't rush with making sure everything was clean throughout the house. I highly recommend this company! Cibelle is very nice and easy to work with. Please reach out to her for all your cleaning needs!
I was extremely impressed with the Almondbloom Cleaning Company!! She was professional and very thorough. She took her time and got it done right the first time. I felt as though I had just moved in to my place . I highly recommend this company to anyone who wants to lighten their load!!
Everything looked and smelled nice and clean, and I was happy with the results. Thank you!
Eboneki Akhibi
2021-09-25
Almondbloom Cleaning is amazing. The owner is very thorough and organized. She shares a list of products that will be used prior to service and went above and beyond (refrigerator) with our first deep clean. She planned out our future services at the first consultation and gave approximate times for cleaning duration. I'm so happy to have found this cleaning company!
Ashley Mayfield
2021-09-15
Cibelle is a magic worker ! She made our home spotless like a hotel . We are not wanting to touch anything because it looks so perfect ! She was thorough, didn't rush and took her time with every single item in our home ! We are going to book her monthly because she is the best at what she does ! Book her , you won't regret it !
The attention to detail was more than expected. Communication was top notch and flexibility in scheduling was superb. This was our first experience with Almond Bloom and it made a long term customer out of the experience. The best part is being able to support a local buisness, and the return for the value is unbelievable. Book Almond Bloom and you will not be dissapointed. Almond Bloom thanks for your cleaning service and we look forward to seeing you again for the next cleaning session.
If you are like me and are crazy busy with endless to-do lists, at the end of the day, the last thing you have energy to think about (let alone actually try to tackle) is house cleaning. After a while it piles up and becomes so daunting and overwhelming that you gotta' call in help. My husband tripped across Almondbloom after another company we had used in the past no call/no showed TWICE. Call it fate, Divine intervention, karma, kismet, or whatever you want, I am so happy we found Almondbloom. I cannot recommend Cibelle and Almondbloom enough. She and her son are amazing!! Having my house deep cleaned was the best decision I ever made. I was absolutely blown away. As I mentioned before, I had once before had another company come in to clean right before a big holiday event, and they did ok. However, they were not even in the same league as Cibelle. So many small touches I noticed (see photos) made me feel like I was in a fancy hotel. The fact she took the time to do this and her attention to detail are unmatched. She explained that her philosophy is that she cleans your house like she would want her house cleaned. Her work certainly showed that commitment to excellence. Her prices are extremely affordable, and you will NOT regret hiring her! She is a gem and a joy to be around. Do yourself a favor and get housecleaning crossed off your to-do list today! Hire Almondbloom Cleaning!!!
I was blown away at the quality of service. I gave them a shot because the price was right and I was not disappointed. Cibelle and her son went above and beyond. I will keep using them. I highly recommend AlmondBloom.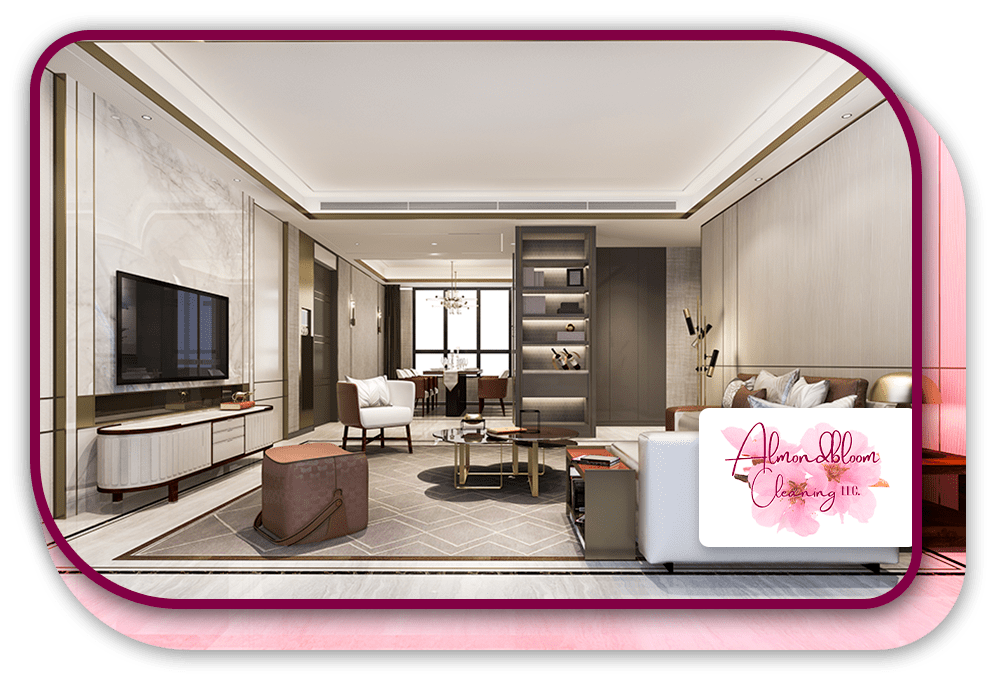 We clean your house by making all rooms completely sanitized and organized with safe cleaning techniques and products capable of leaving everything sparkling.

Your home will be even more comfortable and presentable for your visits, and your family will be able to live with more comfort, safety, and well-being.
The best cleaning services in Ohio at your home for competitive prices!
We have put together a list of benefits that you will have with our services:
Almond Bloom Cleaning LLC
We have been performing the best cleaning services for many years, and now we have come to the Ohio area in order to provide all of you who live here with completely efficient services for fair prices; our services are worth your trust.

Our company is committed to meet all your expectations and make your space clean, organized, comfortable, and safe for you and your family to enjoy peace of mind.

AlmondBloom Cleaning expert team is highly prepared to clean every corner of your house according to your specific needs and deliver to you cleaning services that will exceed your expectations.